Quick Details
Type: cross stitch embroidery tool Place of Origin: Anhui, China Model Number: KK-E-02
Name: Cross Stitch embroidery hoop Color: Nature Diameter: 13/15/18/20/23/26
Feature: cross stitch frame hoop embroidery hoop Material: Bamboo
Weight: 23g,32g,35g,40g,40g,53g, Keyword: Cross Stitch embroidery hoop
MOQ: 50 sets Usage: Embroidery, sewing, knitting and decoration.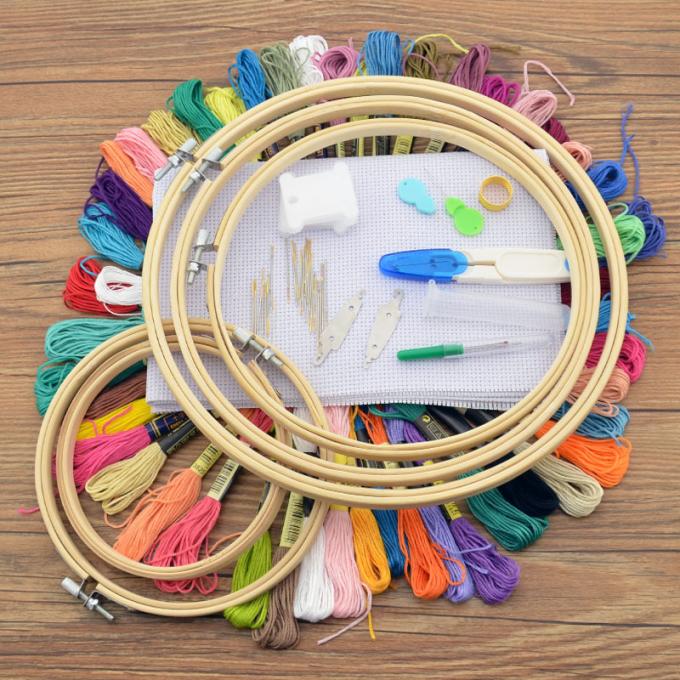 The most suitable beginner embroidery kit, with all the tools you use for embroidery.
Just with this kit, you can finish a nice embroidery.

Natural Bamboo Size: 5pcs embroidery hoop use dimensions: 13cm, 17cm, 20cm, 23cm, 26cm;
Content: 5pcs bamboo embroidery hoops, 50 color threads, 2pcs 14 count white cotton classic reserve aidas, 12pcs floss bobbins, 30pcs 3 sizes embroidery needles, 4pcs cross stitch needle-threading tools, 1 pair of scissors, 1pcs thimble, 1pcs untwist tool, 1pcs instructions

Embroidery hoops are cheap and fun way to decorate walls, and a great way to display a special piece of fabric that's too nice to keep in your stash.
So simple to use. Open the hoop up by loosening the screw on the side, Stretch your fabric out over the smaller (inner) hoop, put the larger hoop over the top and gently pull the fabric tight while tightening the screw. Once you are sure the fabric is evenly and tightly stretched tighten the screw all the way and carefully trim off any excess fabric from the back. Use them in your wedding as decorations. Super cute.